Tomorrow, we are packing up the family and heading out for our first roadtrip as a foursome. I'm so excited for the destinations, but a little anxious about the actual driving. Myer doesn't do super well in the car for longer amounts of time. We'll be driving 10 hours to Denver, where I will get to see some friends and check out a city I've been told I will love. I am so excited to see it! And the people I love who live in it!
After a couple of days there, we will pack up again and drive another 8 hours to southern Utah, where my parents have just recently built a house and moved. My friends Rebecca and Randy will be following us out there from Denver, and both my brothers and my sister-in-law and my brother's girlfriend erin will meet us out there too. We'll be celebrating Jaxon & Doodad's birthdays- Jaxon is turning 30 on the 29th, and my dad will be turning 60 on the 30th. So, big cause to paaaarty!
I can't wait to see their house.
Just check out these views that are waiting for us: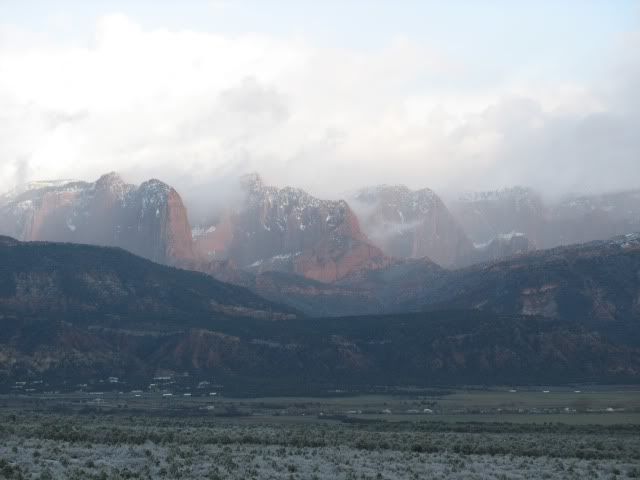 Ummmm... how amazing is this?? This is the view from their patio. Those rock formations are just part of a little place I like to call
Zion National Park
. It's like we're going to a luxury vacation destination... only it's
my mom & dad's house!
Crazy.
Here's the latest development... We were only going to be able to stay in UT for a couple of days because Chris is really busy with work and needs to get back home, but I just checked the price of one-way tickets from the Vegas airport (closest to mom & dad's house) back to OKC, and there were flights starting at $63.00. SIXTY THREE! So. I think what will end up happening is that me and the kiddos will stay a bit longer and then just fly home later. That way we can spare ourselves from the awfulness that would be a 2 day, 18 hour car trip back home with two kids. *shudder*
I'm off to do laundry and start packing and hit the library and playgroup and the store and....
oy vey.
i'm exhausted already.
Are we there yet? Are we there yet? Are we there yet?