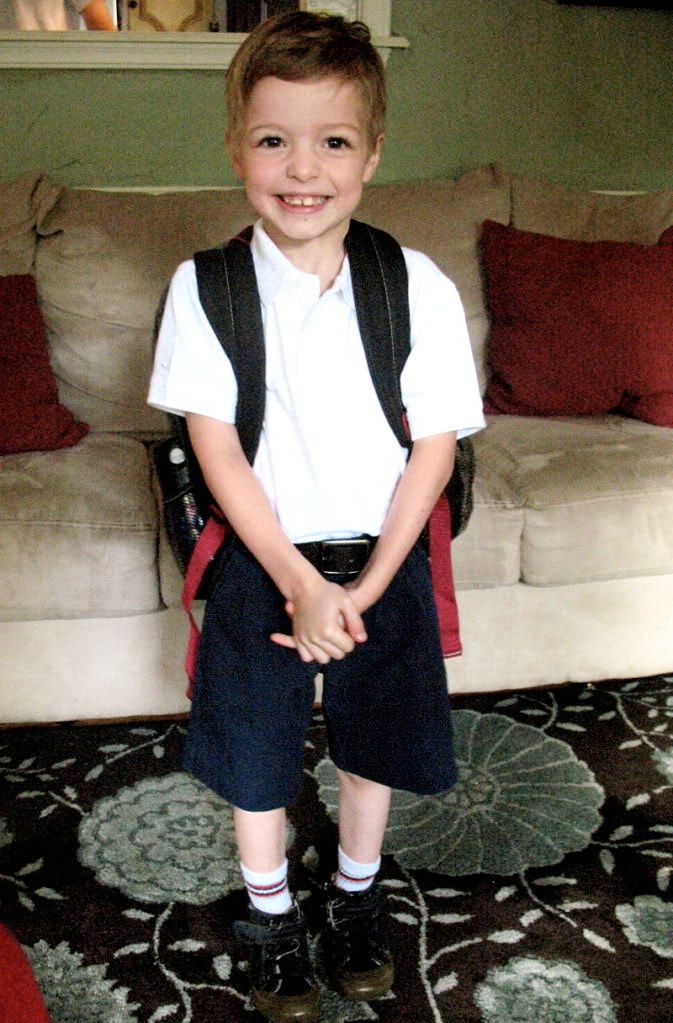 First off- Ezra's school is INCREDIBLE.
The teachers! The kids! The mentors! We love it all. It's like a little hidden gem right in my own backyard-- rated the top public charter school in the country... and we had NO idea it was even there when we moved in 4 years ago.
It's not in the best neighborhood. It's not the newest, shiniest building. Ezra's little pale white head stands out noticeably in the sea of beautiful black faces. But you can feel the heart of the place when you walk in the front doors and it's ALIVE and JOYFUL. I can't wait to pour myself into that school as much as I can. To serve it and help it and support it.
And Ezra LOVES it! Hooray!
I have been feeling sooooo sick the last week or so. I've never been this nauseous with a pregnancy before, so I wasn't expecting it. (Girl, perhaps?) It has pretty much laid me flat all week. Now I am just trying to figure out a way to live around it since it seems to be here to stay for a bit. I'm 9 weeks along now and not nearly as LARGE as I was at this time with Myer. I remember thinking there were quadruplets in there when I was first pregnant with him. haha. (phew!) I would post a picture to start the 'pregnancy belly shots', but it seems silly to do when there's no belly yet. I'll spare you until there's actually something to see!
We thought Myer had the chicken pox this week. We were keeping him away from other kids and just waiting for the spots to go away. But when the spots started getting WORSE, I took him into the doctor and found out it wasn't the chicken pox at all. It was a raging case of impetigo that popped up all over his body from when we were in Utah and his eczema got so bad. Poor kid.
I'm praying SO hard that God will take all these crazy allergies away. They make him so miserable most of the time. I have faith that He will heal my little Myer so that he can eat yummy food and play outside and be around the pets and animals that he is OBSESSED with.
Speaking of his allergies, I still haven't found my stride with them yet. The one thing that is making this so hard is that I HATE cooking. I have never really done it or been good at it or had any desire to change that fact. And all these allergy resources and webpages that I'm finding about wheat-free, egg-free, nut-free foods require elaborate COOKING with hours spent in the KITCHEN and fancy flours and MEAL PLANNING and OH MY GORB I just want to stick something in the microwave and feed the kid!!! I am openly admitting that I am lazy. I know it. I have never had any interest in food personally. I eat because I have to, not because I enjoy it. The day that they finally invent a pill that will replace entire meals will be a happy one in my books.
Right now Myer rotates between about three things: oatmeal, hot dogs or ham, and sometimes corn quesedillas. He loves fruit and sweet potatoes, but it's the actual filling of his tummy with substantial food that just about kills me three times a day. He will also sometimes eat gluten free macaroni, if all the planets are aligned and a golden cardinal swoops by the window at the exact moment of his first bite.
He's on medication every day, twice a day. Anti-histamines. But still... every single time he goes outside or gets around a dog or is around too much dust or we use the wrong detergent or he eats the wrong food or gets too hot and sweaty, his skin flares up and he claws at himself until he's raw and it takes a week or two to get it to calm back down again.
I don't feel like I'm handling this gracefully yet. And I wonder if I ever will. It all just seems like too much, you know? Like, I narrow in on the food (like I've been doing the past three months) and keep him on his meds, but then he goes outside or gets overheated and all that hard work goes right out the window. I feel like throwing in the towel about 100 times a day, to be honest.
I just want God to take it all away. Maybe that sounds like a cop-out, but I just can't protect this kid from every single thing every second of the day. I just
can't
. I know God will never give me more than I can handle, but I think maybe He overestimated me a little bit on this one. Me needs a
miracle
here, people.
*end of allergy rant sigh*
He's lucky he's so stinkin' cute. hehe.