No foolin'! It's already
THURSDAY
!
I have the BEST readers on the whole internets. You guys are so lovely and sweet and kind!
Anywho, today required TWO outfits because it was in the 50's this morning and then warmed up to 86 degrees by the afternoon! Wowzers!! So... like a good little fashion blog round-up hostess, I snapped pictures of both my looks for today. hehe.
For the AM: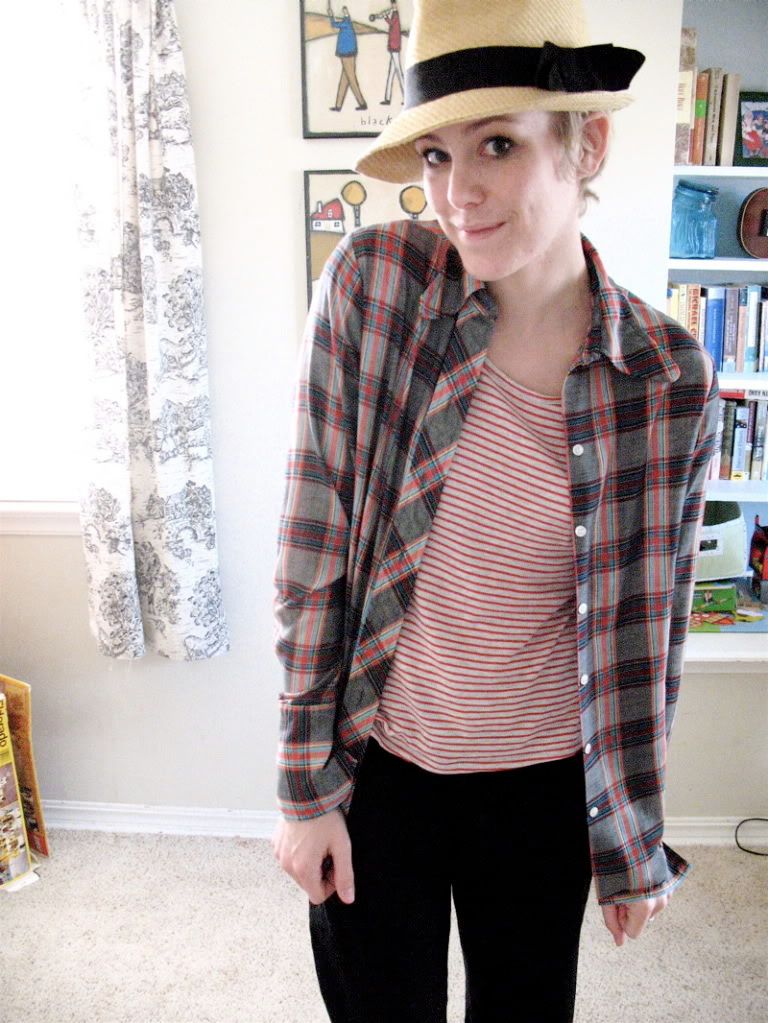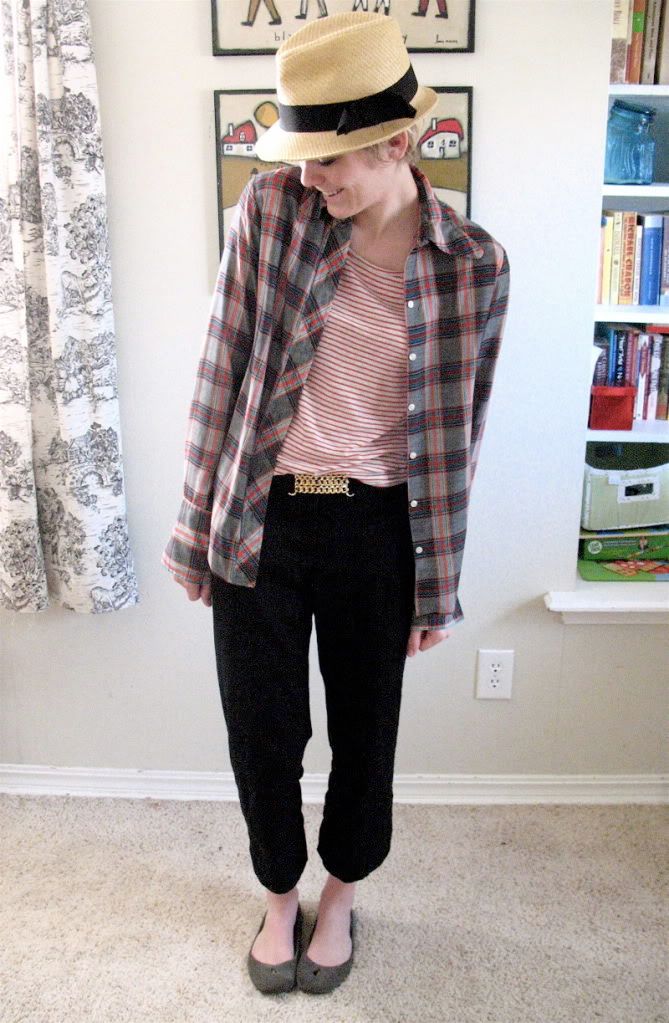 Hat: Forever21
Stripe Shirt- Forever21
Button-up Shirt: Vintage Wrangler, thrifted
Capris- Express, thrifted




And for the afternoon: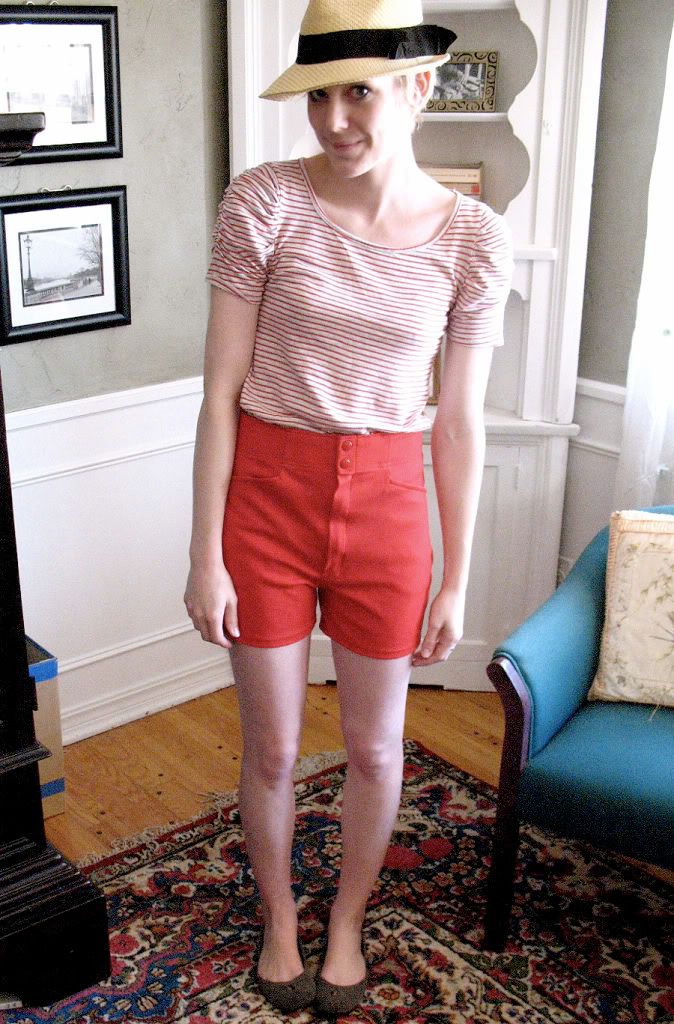 High-Waisted Shorts: Vintage thrifted
Gray Flats- Old Navy
OH! And guess what else?!?
As some of you may know, Chris and I have been re-doing the living room bit by bit via the glorious 'Craig's List'. I've been selling things and then buying things and haven't had to spend any out-of-pocket money at all! (This little venture has been completely fun and ADDICTING, btw.)
We sold our old chairs and have been on the lookout for a rug.
Last night, I checked Craig's List and saw a rug had just popped up. I clicked on it and almost FAINTED.
It's a HUGE vintage rug that was made in France in the 1940's. The owner told us that when she purchased it years and years ago, the dealer told her it was cut from an even larger ballroom rug. The woman selling it wanted practically nothing for it. She said she just wanted it to go to a home that would appreciate it.
Me!! Me!! Pick ME!!!
I emailed her immediately and we went and picked it up right away. When Chris unrolled it last night, I got all teary-eyed. It's more gorgeous than anything I could have ever hoped for. I'm so blown away!
I love my new living room!
Here's the comparison of what it was and what it has transformed into: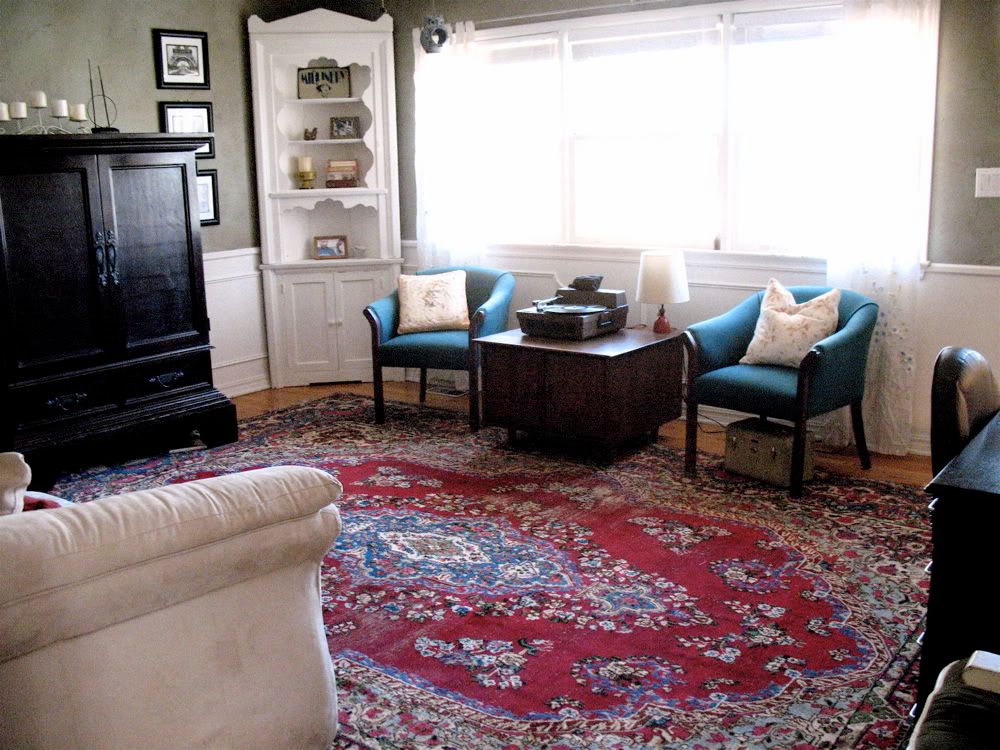 Now all that's left is to find a cool table lamp for between the chairs. I'm thinking something big but somewhat modern. It's a pretty main focal point for the room, so I want to get it just right.
Thoughts?
****************************