Get this...
I'm already in my third trimester somehow.
I feel like I JUST got pregnant. This is all so very opposite of how it felt last time.
When I was pregnant with Ezra, I was bored most of the time. I worked the lunch shift at a restaurant by my house, which occupied about 4 hours of my day, and then I pretty much just... sat around after that. Eating sweetarts and watching Oprah. The days and months crawled by like a thousand million Christmas Eves. I journaled a lot. And wandered around a lot.
This time, however, has felt like hyper-warp-speed. Not that I'm a very busy person even now... but caring for Ezra has replaced all the hours of wandering and writing in journals that I had four years ago. And, heck, I must say that I much prefer the chasing of a squealing, laughing toddler down the hall all day to the lonesome wandering and journaling I did before. That got old and boring
real
quick.
So... yeah. Third trimester. The very last one. What the heck?!? This makes me slightly sad to think that I am quickly approaching the end of pregnancy already.
I love being pregnant. It's one of my most favoritest things.
Yet, I also can't wait to meet this boy. He's going to be utterly fantastic.
I think that some semblance of "nesting" is beginning to set in already... you can judge for yourselves by the fact that I spent a good chunk of time SCRUBBING MY OVEN MITS today when I should have been grocery shopping. Also, we've begun on the nursery. This photo is not pretty, but we're just starting the process of putting up wainscoting:
The chair rail & crown molding will go up next, and then the painting will come after that.
Also, I need to figure out what to do with the full bed in there. Part of me wants to keep it for after the boys are sharing a room, but the other part does not want it sitting around collecting dust somewhere until that eventually happens. We'll probably sell it on Craigslist. Or sumptin'.
Final thought: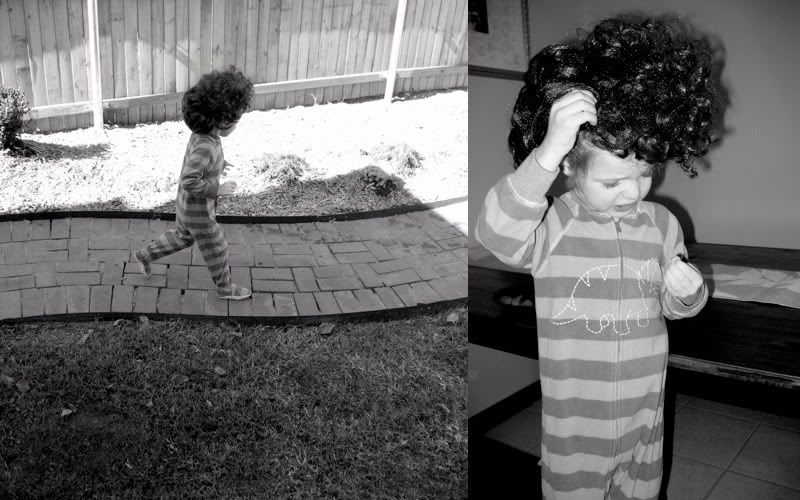 Wigs are fun and silly!! Right up until one of those nasty plastic hairs find their way into YOUR MOUTH. The end.