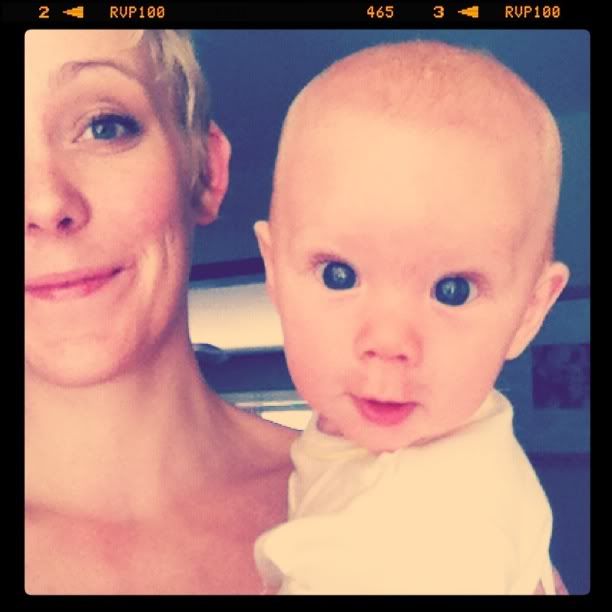 He is FOUR months old now, and the absolute sweetest and easiest baby to ever flop around on the face of this earth. He already has two (almost three/four?) teeth. He sleeps 10+ hours a night. (I poop you not.) He smiles and laughs and nurses like a champ.

It's so true what they say about the third, though... they just kind of have to learn to go with the flow. I feel like every single time this poor babe falls asleep, I have to wake him up and plop him in his car seat so I can go get or drop off one of his brothers somewhere! Although, maybe this is why he is sleeping so much at night? If so, I'll take it!! :)

He hardly EVER poops, just like Ezra when he was a baby. He'll go

daaaaaays

without any action. The doctors just say he is very "efficient". He's using everything that he is getting.

He's Truman, the amazing

poopless

baby!

He only gets bathed once every

coupla

weeks.

hahahaha

. Mama has her hands full right now. Baby wipes sponge baths will just have to do! Yet he still somehow manages to smell like heaven...



His brothers adore him. And why shouldn't they? They are the only ones who can get little
Tru
to laugh. This has endeared him to his brothers like nothing else. Ezra and Myer are proud to be the sole giggle-
getters
in the household. They wear his laughter like a shiny badge.
I am becoming more comfortable in my role as a mother of three boys. Most days by 7:00pm I am way past "done" and working on "burnt" or maybe "charred", but I feel like we have mostly hit the ground running without any tragic hiccups to speak of. We even GO places and survive! VICTORY! What it practically looks like is this: Truman in the sling, Myer walking or in the umbrella stroller, and Ezra opening all the doors for me like a little gentleman. My boys are usually very well behaved, and so things usually go pretty smoothly when we're out & about. :)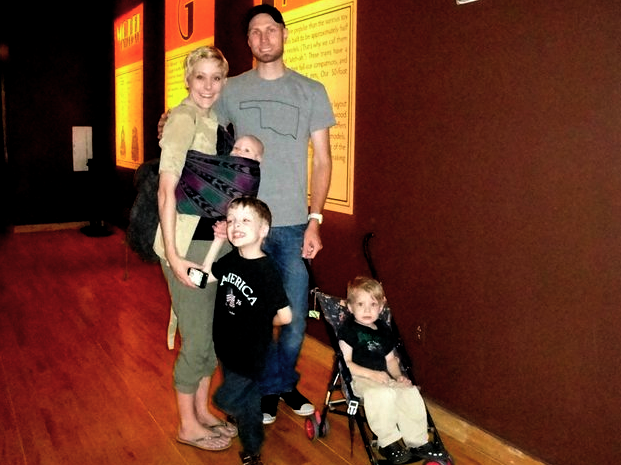 (I stole this pic from my friend Harmony who we got to go see in Kansas City last week for my birthday!

squeeee

!)



I am loving the "all boys" dynamic we have going on right now, and I am feeling more and more sure that the hard work I am doing here day in and day out, though it feels mind-numbing and soul-draining at times, has more eternal value and worth than I may EVER be able to grasp or understand. And yet... I don't believe that means I shouldn't
try
to grasp it, that I shouldn't
try
to understand it.
I have been working on being thankful for what I have, for finding the eternal in the seemingly mundane. I mean, surely God is as much in the Grand Canyon as He is in the view from my kitchen sink, right? This practicing gratitude is bringing me surprising amounts of joy. I started reading the book "One Thousand Gifts" by
Ann

Voskamp
, and recommend it highly. It's been like a breath of fresh air to this parched heart of mine. Go get your hands on it, I know you will love it too.
:)