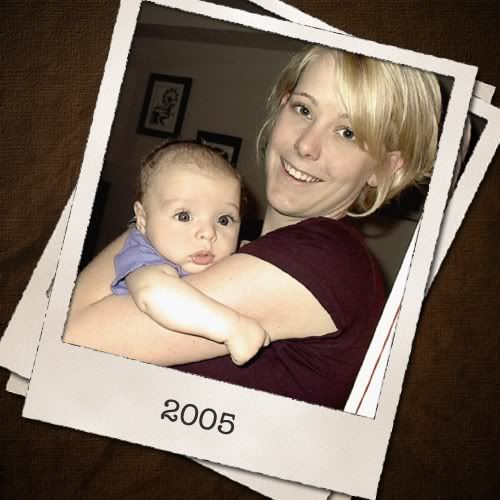 Becoming a mother for the first time is... probably the biggest shifting that a woman will ever experience in her life. When you give birth to that first child, the ground underneath your feet raises up a tad, all dreamy-like, and then suddenly it jolts so far to the left that you're standing in Japan. You are no longer even
close
to the place you'd occupied in life just moments before.
My God! You're someone's MOTHER!
This momentous shift was not an easy one for me to adjust to. Because... I didn't
want
to be in Japan! I wanted to be back in my old, comfy, well-worn plot in life! I think I spent the first three years of Ezra's life trying to hitch hike my way back across that ocean. No one would give me a lift, however. Probably because I smelled like sour milk. And had the craaaazy eyes.
It almost makes me feel badly for all the firstborns in the world out there. Because every firstborn is the son or daughter to a firstmom. And that's just plain scary, no? I, as a firstmom, was pretty much clueless to things like time management, baby care, and... oh... emotional stability and whatnot. (Not that I'm any more stable now, but at least now I'm
aware
of my instability- And aware that this instability is universal for people of the mom-persuasion. See? That right there is Progress!)
My experience with becoming a
second
-time mother has been a very different one than the first. In the four years between children, I've grown comfortable in my role as a mother. Not that I have mothering all figured out... that's not what I'm saying. I'm saying that thinking of myself as
a mother,
as someone's actual
mother
, has become second nature- whereas before, this thought made me want to run screaming into my own mother's arms- burying my face there until all the responsibility and sacrifice passed by me and I could emerge happy and carefree again.
Being
comfortable
in my role as a mother has been the main difference in my experience with the birth of my second child. It has been, all-around, much easier. I have fallen in love with the mamma in me. I see now that she was always a part of me, waiting in the wings for her time on stage. I am no longer afraid of what I
lost
in crossing over into motherhood, I am now more acutely aware of what I've
gained
.
I am still completely ungraceful and bumbling when it comes to things like, oh... time management, positive discipline, and basic baby care. You'd think I'd been raising two sacks of potatoes over here if you ever saw the day-to-day chaos and tomfoolery that make up my life at the moment. Forgetting to change the baby's diaper for 8 hours at a time... almost leaving the house to go get ezra from school without bringing the baby along... writing myself ridiculous notes like 'DO SOME LAUNDRY' or 'EAT BREAKFAST' or 'BREATHE IN AND THEN OUT. (REPEAT AS NECESSARY.)'
(That's an important one right there.)
It's like a crazy, messy, loud, wild, colorful, boisterous gypsy camp here most days.
But it's a gypsy camp I wouldn't trade for the world! Because I get to be the lovely gypsy mamma! And this wacky little brood of mine... it is rich with rumpled, scruffy joy. Joy that's rough around the edges yet better for the wear- like an old family photo carried faithfully in a back pocket.