*********Baby Pool Announcement!!**********

Can you believe that out of FORTY baby pool guesses, the winner would be my very own wonderful sister-in-law?? Candace took the prize-- barely winning out (by one hour!) over my bestie Rebecca. She guessed his height exactly as well. So, CONGRATULATIONS, Candace! I will be sending you something fun in the mail shortly. Also- I love yoooooo! smooch smooch!

*****************************************
I've been wanting to do that thing where you compare your kids' newborn pictures, but am not nearly organized enough to get a "same outfit, same hat, same background, same pose" capture like so many bloggers seem so able to do. I found these two poses somewhat similar, however, so I thought I'd do a side-by-side comparison of the boys at just a few days old: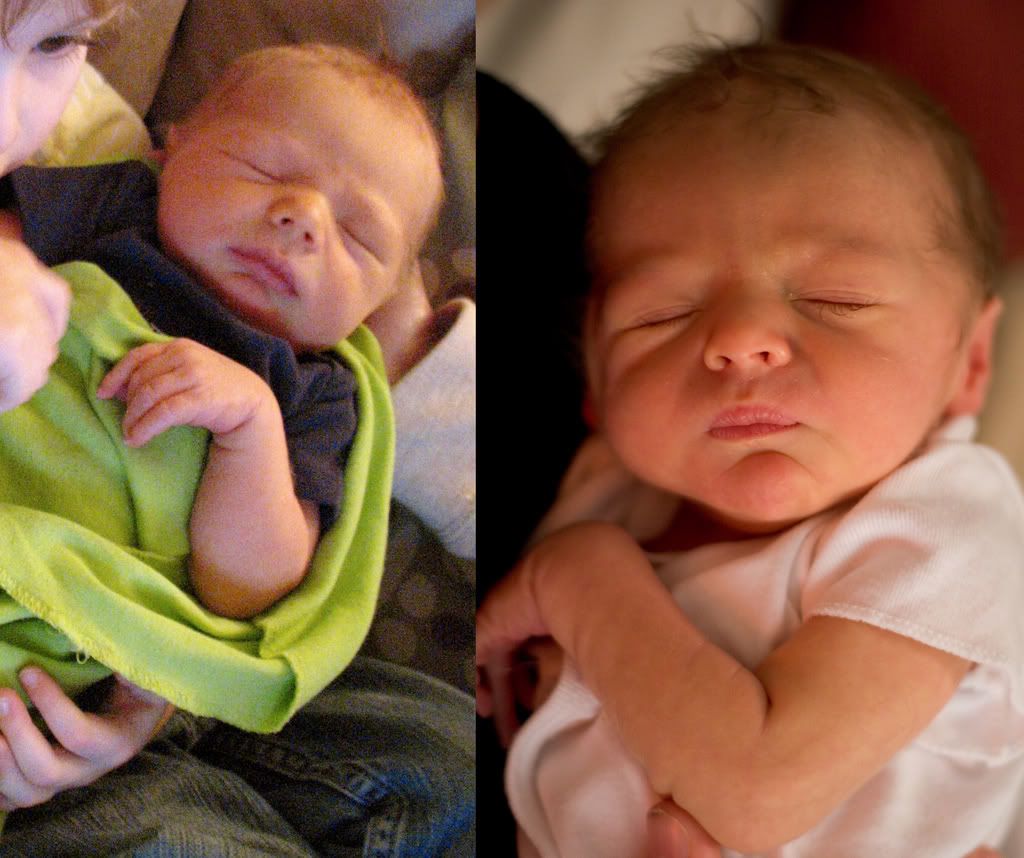 Myer is on the left, and Ezra is on the right.
They look somewhat similar in these photos, although in real life I think they look really different. Myer is obviously much BEEFIER than Ezra was (hello, two extra pounds! Owww!) Ezra DEFINITELY had my eyes & dark eyelashes when he was born, while Myer seems to have his daddy's brow & eyes. He also has Chris' head shape and bigger lips. I'm thinking we might have a mini-daddy on our hands, while Ezra was a mini-mommy. How fun!
We are all doing incredibly well, and Myer has still been sleeping pretty much all the time. He sleeps for 4 hour stretches at night, so we're getting plenty of rest so far, and he eats like a champ!
Chris and I have been out & about quite a few times, because we don't particularly agree with the "LOCK DOWN" theory if momma and baby are doing well and feeling up for some fresh air and company. Also, GASP! WE ARE NOT TERRIFIED OF GERMS! So, there's that.
So far, everywhere we've been, people react with shock and stifled horror that we have had the audacity to walk out our front door with our newborn baby. Maybe it's an Oklahoma thing? I don't know. Anyways, it's annoying. For me personally, it's much healthier to be out of the house every now and again- grabbing coffee or sitting at church- rather than being cooped up in my bedroom. I feel amazing physically, and the air and company have done me good. I don't remember such reactions after we had Ezra. (We were out & about just as much with him too.) Maybe it was the laid-back California mentality or the fact that none of our friends had ever been around babies before so they didn't know most people stayed home for WEEKS after giving birth... I don't know.
Since I feel great, and Myer is doing great, we do things. We go places. And we don't think that makes us bad parents.
ANYWHO, I've started writing down Myer's birth story since it is still so fresh in my mind. Every single time I close my eyes, I see a replay of the events of his birth. Funny how life-changing events seem to hunker down behind your eyelids like that. I absolutely love it, and I'm trying to capture the day before it starts to fade away. I'll post that soon.
Happy Monday, all! Myer has his first doctor's check-up today... wish us luck!
Myer has BIG HANDS.