Chris & his dad took Ezra to a lake outside of town this morning and they all went horseback riding. Ezra did wonderfully on the horse (with grandpa), and now he answers the question "What do you want to be when you grow up?" with "a COWBOY" instead of his old stand-by of "a GOLFER".
I think I'll encourage him to combine his two dreams and take up Polo.
I carted myself out of the house and grabbed some coffee at Starbucks after the boys left. Then I headed over to the Goodwill, where I promptly found the PERFECT curtains for the baby's room closet doors. And they were only THREE DOLLARS. (I have also purchased a vintage crib quilt... made of amazing storybook fabric.)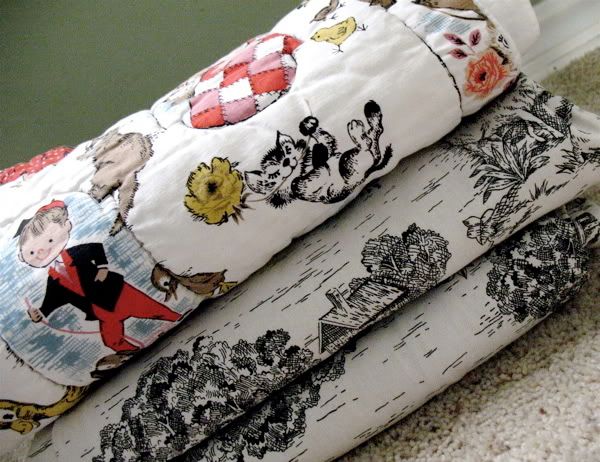 The beginnings of a nursery.
After finding the curtains, I meandered over into the baby clothing and proceeded to CRY REAL TEARS every single time I looked at any Newborn sized onesies. I kid you not. This has been happening for the last 4 months or so. Every time I look at any mini-sized clothing, I CRY. I cry because my eyes play tricks on me and I can suddenly picture my squirmy little baby in my arms... wearing tiny little man clothes and drooling all over himself. This crying is, um, slightly embarrassing in public, so I have almost completely avoided looking at baby things at all.
I am going to be a MESS when we finally get around to getting all of Ezra's old clothes out of the attic. A total blubbering MESS.